Corporate Philosophy
Nihon Material Corporation will contribute to development of recycling-oriented and affluent society through business activities in the global arena.
About Us
Company Name
NIHON MATERIAL Co.,Ltd
---
Established
June, 1992
---
President
Meiwa Morita
---
Office
The Main Office in Tokyo
Nihon Material Building, 3-2 Sotokanda 5-chome Chiyoda-ku, Tokyo, Japan

---
Branch Offices
Sapporo, Okachi-machi, Higashi-Ueno, Yokohama, Koufu, Shizuoka, Nagoya, Osaka, Kobe, Hiroshima, Fukuoka.
---
Factory
Noda Factory
19-2 Hayama Noda-city Chiba Prefecture, Japan

---
Diamond Jewelry Shop
Ginza Rim
---
Our Banks
Sumitomo Mitsui Banking Corporation
Bank of Tokyo-Mitsubishi UFJ
Mizuho Bank
Shoko kumiai Chuoh Bank
Aozora Bank
---
Description of Our Business
Refining Precious Metals
Manufacturing and collecting precious metal materials for industrial use
Manufacturing and collecting ornamental precious metal materials
---
History
1992
Constructed the refining factory in Kasukabe-city, Saitama-prefecture.
Opened the shop of precious metals in Ueno, Taito-ku, Tokyo.
Started the business of ornamental precious metals.
---
2004
Relocated the Main Office to Ueno, Taito-ku, Tokyo
---
2007
Relocated the refining factory to Noda-city, Chiba Prefecture.
---
2008
Noda Factory acquired ISO 9001 and 14001 certification.
Started manufacturing of electronic materials.
Joined Tokyo Commodity Exchange as a general member.
---
2012
Acquired EICC (Electronic Industry Citizenship Coalition) certification as a Conflict Free Smelter.
---
2013
Certified as the London Good Delivery Refiner by LBMA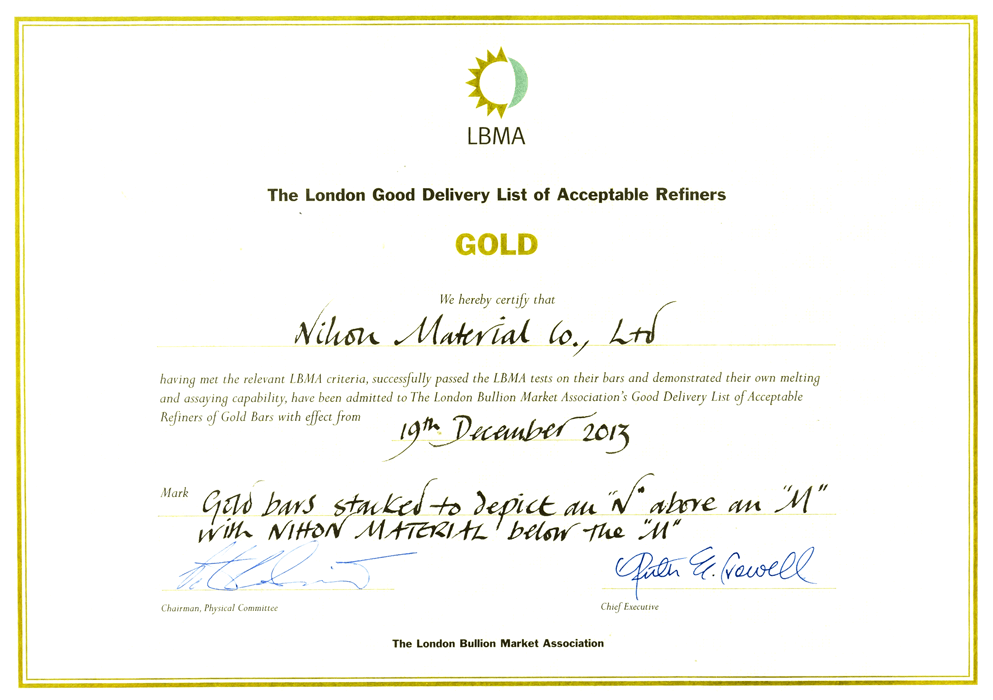 ---
2015
Certified as the London Good Delivery Refiner by LPPM
---